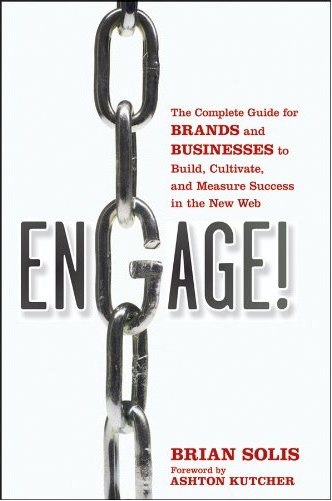 Jeff Nolan, our VP of Product Marketing, was lucky enough to snag a quick interview with social media dynamo Brian Solis. Brian's book, Engage! The Complete Guide for Brands and Businesses to Build, Cultivate, and Measure Success in the New Web, recent debuted in paperback and is available in bookstores and online. Here's part one of the interview:
Jeff Nolan: Brian, we have known each other for the better part of 10 years now… and one of the things that I have always admired about you is the ability to capture the meta layer that connects a range of loosely connected topics. What is the meta that ties off the notion of republishing a book in near realtime, a book that you first published just 13 months ago?
Brian Solis: Jeff, thank you. You and I have run in the same circles for the last decade and the one thing that I've always appreciated about working in Silicon Valley and in technology is the genuine fellowship that exists amongst peers. Over the years, I've been challenged, inspired, and driven to earn my place within the rapidly shifting landscape of new media.
To this day, I'm often asked by my immediate peers why I spend so much time investing in writing books. We live in a real-time world after all and books are often outdated by the time they're published. The insights that serve as the foundation for books are now in large part, fueling some of the best blogs in the business.
My response remains the same. Book reach an audience that blogs don't yet captivate and it was my aspiration to extend the importance and promise of new media and its impact on business and culture to the people who could most benefit from it. The challenge however, was indeed writing about an industry in constant flux and having it retain value not just at the date of publishing but for years beyond. As a result, I focused on the core principles and tenets of new media and the new world of business using technology as an enabler, but not its focus. In my opinion the original Engage that was released in March of 2010 is well preserved and still incredibly relevant – and will be for quite some time.
When it came time to re-release Engage in paperback I opted to revise the manuscript, not because I felt it was outdated or that there was anything missing, I just saw a chance to practice what I preach. Over the last year, I listened to Tweets, posts, and reviews and found an opportunity to conserve Engage in hard cover while using the paperback as a new vehicle to incorporate suggestions and requests for a different take on an important subject… engagement.
Jeff: In a world of 140 character tweets and activity streams at every turn, what is the value of a cover-to-cover book today?
Brian: With Twitter and Facebook and every other network that defines the statusphere, we are conditioned to publish and consume content at a rapid fire pace. In many ways, we compete for attention at every moment – all in 140 character bursts at a time (well 120 if we hope our words are to be retweeted.) I believe brevity fuels a hunger for depth. If the subject matter is interesting and there's a discernible market for it, a collection of Tweets and a constantly updated blog would not satisfy the appetite for enlightenment or captivation. A book carries a greater purpose of guiding the reader through a dedicated experience that allows for focus and deeper understanding and engagement. The statusphere quenches an fleeting thirst or satisfies an immediate hunger. A book, a good book, provides sustenance that feeds the mind and soul with lasting effect. With electronic readers and tablets migrating toward the mainstream, it is possible to extend experience and allow people to subscribe to ideas where media between deeper dives creates a dedicated and ongoing stream.
Jeff: You cut 35,000 words and 40 sections from the second edition, and then added new sections as well as updated existing sections. In short, this is a significant update… does this suggest that your audience should be subscribing to your book rather than buying it? And isn't that essentially what they are doing through the Brian Solis brand as opposed to the book you are releasing?
Brian: Yes, in this second edition, I edited out 35,000 words and 40 sections from the original. To put that in perspective, that's over one-half the length of a standard business book. I also took the opportunity to add new sections and also introduce significant updates to each chapter.
Seems almost like a perfect segue between the last question and this observation. Education, entertainment, experiences, are often most effective and lasting when they're compartmentalized. Giving people a beginning and an end to an encounter delivers more than mere enlightenment giftwrapped with a sense of closure. Audiences already subscribe to the idea of the book by following me on Twitter, connecting with me on Facebook or reading my blog. But when there's a topic worthy of submersion, those who are fascinated or curious will join in the journey while others will stay subscribed to the elevated stream.
Jeff: If subscription has merit, how would you bring together social media's many types of content (e.g. video, long form text, short text, streams) and online social behaviors to augment the reader experience?
Brian: Currently I blog, curate, share short-form observations and experiences, and host a web show called Revolution (http://www. youtube.com/briansolistv). I invest in each form of media to address the unique and varying needs of my audiences. I've yet to find one sweeping strategy to rule them all however. For those seeking to truly cultivate a community, engagement comes at the prices of variety and consistency.
---
About Brian Solis: Author of the acclaimed new book on social media and business, Engage!, Brian Solis is principal at Altimeter Group, a research-based advisory firm. Solis is globally recognized as one of the most prominent thought leaders and published authors in new media. A digital analyst, sociologist, and futurist, Solis has studied and influenced the effects of emerging media on business, marketing, publishing, and culture. Connect with him on Twitter, LinkedIn, or Facebook.
Subscribe to the Social Studies blog for the tools to unleash the power of customer conversations.