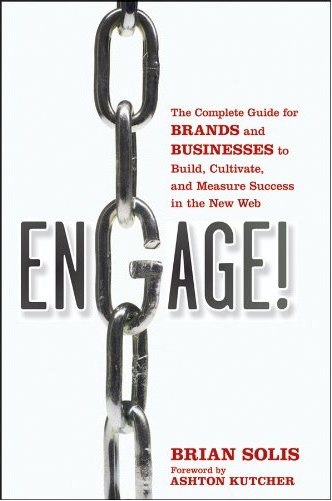 Jeff Nolan, our VP of Product Marketing, was lucky enough to snag a quick interview with social media dynamo Brian Solis. Brian's book, Engage! The Complete Guide for Brands and Businesses to Build, Cultivate, and Measure Success in the New Web, recent debuted in paperback and is available in bookstores and online. We published part one of their interview on Tuesday. Here's part two:
Jeff: As an author, how do you un-market to your audience?
Brian: As an author, I invest in the creation of value-added content that addresses the needs and questions of my peers and audience. While I sell books technically, I also provide free content that is no less the value of what I include in my books. I listen. I interact. I share my experiences and advice. I do so relentlessly. Investing in the caliber of information, solving problems, answering questions and offering direction is my way of marketing expertise through unmarketing.
Jeff: You have been a tireless advocate for companies using social media and online social behaviors to broaden and deepen brand loyalty, putting aside authentic behaviors for a minute, is this about companies themselves becoming more media company like in how they program content to a market?
Brian: We are witnessing businesses struggle with this very concept. They are are embracing social media and they're experimenting with editorial programming as a result. Essentially brands are becoming media companies, however like all media companies, they are subjected to the trials and tribulations of producing useful, relevant and entertaining content. This is an area where many businesses will fail before they succeed. There is a great unfollow and unlike movement ahead of us. Sophisticated social consumers are realizing that the more they follow their favorite brands the more content appears in their News Feed and social stream. There are already studies that show people will gladly disconnect from a brand because content is irrelevant, boring, or promotional. To become a true media property, businesses should consider hiring an editor for social channels, a role I playfully refer to as the new CEO (chief editorial officer).
Jeff: Regarding authentic behaviors, we all demand that companies be more human but is that what we really want or is it that we just want them to be more competent?
Brian: Consumers have expressed the need for recognition and resolution among the top reasons for engagement. Beyond that, customers also want access to special offers, discounts, exclusive content now and over time. Competence is an interesting element however. Businesses have invested years of time, money and resources moving away from the customer when it comes to direct engagement. Now, social media are forcing businesses to rethink its service and engagement approach. Now getting closer to customers is cited as a top business priority. In order to build relationships, businesses must also reexamine the prevailing philosophy and infrastructure to create a sincere customer-centric culture. Without it, all attempts at engagement will malfunction. The future of business is reliant upon employees and supporting processes to genuinely facilitate meaningful engagement before, during, and after any financial transaction.
Jeff: Apple is a great example of a company that breaks all the rules, the CEO even answers customer emails… is this an exception driven by the unique personality of the CEO or is it something that all companies can and should learn from?
Brian: Apple is the exception to many rules. From crisis management to CEO engagement, I'm not sure they're the best example for the future of an adaptive business focused on customer-centricity. However, their relentless pursuit of innovation and enhancing user experiences are indeed the attributes of an adaptive business. Apple designs experiences from beginning to end where products are just one part of the entire mission. From the web site to the product packaging to retail to the active online forums to genius support, the Apple experience is meticulously architected. I would also look at the Virgin America model for designing complete customer experiences as a signal for the future of adaptive business.
Jeff: Do you have any conversations with companies about social that does not involve a conversation about Facebook?
Brian: Facebook and Twitter represent the pillars of social media with every business I speak to. Now, whether or not their intentions or corresponding strategies are substantial, that's a difference conversation. I encourage companies however to think about Facebook as their home page for the social web and to view Twitter as their window to relevance. Social consumers have varying needs and expectations when visiting a brand page. Why limit their experience to one campaign and a wall. Use tabs/pages to customize the experience for each. There is no one audience so design the Facebook clickpath around the value they're seeking.
Jeff: Does Facebook evolve more along the lines of a country than a company given the scale they are currently operating at? By extension, could Facebook Credits achieve the tangibility that real currency has?
Brian: Facebook and other social networks are already funded by a widespread social currency. Credits represent a tangible form for monetizing transactions however, Facebook is cautious as it should be. There is a sense of neutrality needed by the "Bank of Facebook" while it grows. Estimates peg users at 700 million which is large, but nowhere near the total 6.8 billion who currently use the Internet.
Jeff: What do you think of companies who outsource their social fill-in-the-blank?
Brian: I'm not sure that I have a general response to this question. I do believe however, that intention counts for everything. If an external team can provide a genuine and empowered experience through direct engagement or through content creation, then I struggle to find a problem. On the other hand, if outsourcing occurs because social media represent a necessary evil or because it's not deemed important enough for internal support, they will get out of it what they invest into it. Engage or die!
---
About Brian Solis: Author of the acclaimed new book on social media and business, Engage!, Brian Solis is principal at Altimeter Group, a research-based advisory firm. Solis is globally recognized as one of the most prominent thought leaders and published authors in new media. A digital analyst, sociologist, and futurist, Solis has studied and influenced the effects of emerging media on business, marketing, publishing, and culture. Connect with him on Twitter, LinkedIn, or Facebook.
Subscribe to the Social Studies blog for the tools to unleash the power of customer conversations.